CHATTANOOGA, Tenn. — When Tennessee Valley Federal Credit Union leaders began planning for their 15th branch, they had one thing in mind — member service. With the opening of TVFCU's Ringgold Branch at 35 Poplar Springs Road, credit union members can now connect LIVE with a personal teller from 7 a.m. to 7 p.m., Monday through Saturday, in the Ringgold Branch drive-thru via a real-time video and audio interaction.
The groundbreaking interactive teller technology was approved by the National Credit Union Administration in 2012 and enables LIVE personal tellers who are working from TVFCU's administrative offices in downtown Chattanooga to complete basic transactions for members at the Ringgold Branch.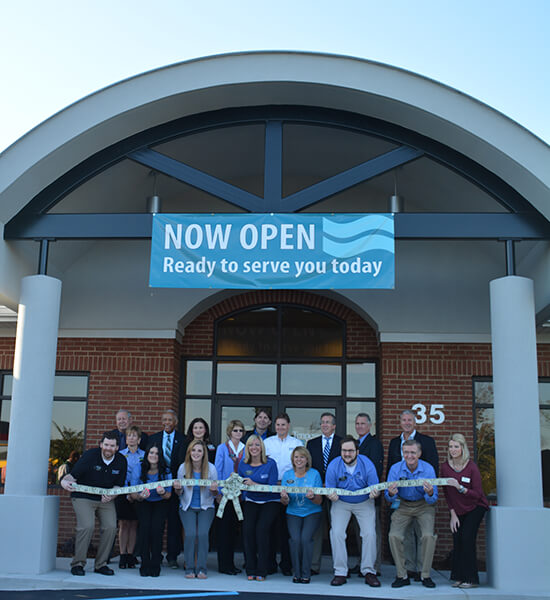 "We understand that it is sometimes challenging for our members to visit the credit union during the day," said John Merritt, vice president of marketing at TVFCU. "That's why we are so excited to introduce TVFCU LIVE in the drive-thru at the Ringgold Branch because now our members can swing by before or after work and still have a personalized experience with our LIVE personal tellers."
The former bank building at the intersection of Alabama Highway and Poplar Springs Road has been completely remodeled and now features pops of TVFCU's iconic teal color. Inside, concierge representatives guide members to one of four TVFCU LIVE stations in the center of the branch if they need a basic transaction. Or depending on financial services needs, concierge representatives direct members to financial services consultants who are available to open new accounts and to assist members with loans and mortgages. Nine employees work from the Ringgold Branch. The lobby is open Monday through Thursday from 9 a.m. to 5 p.m., on Friday from 9 a.m. to 6 p.m. and on Saturday from 9 a.m. to 1 p.m.
"With TVFCU LIVE, we are able to cost-effectively extend our hours from 7 a.m. to 7 p.m. in the Ringgold Branch drive-thru," said Lisa Elrod, vice president of branch operations at TVFCU. "TVFCU LIVE allows us to spend more time with our members in the branch environment as they make life decisions about purchasing homes, vehicles and other items. The introduction of TVFCU LIVE is all part of us helping our members live the life they love."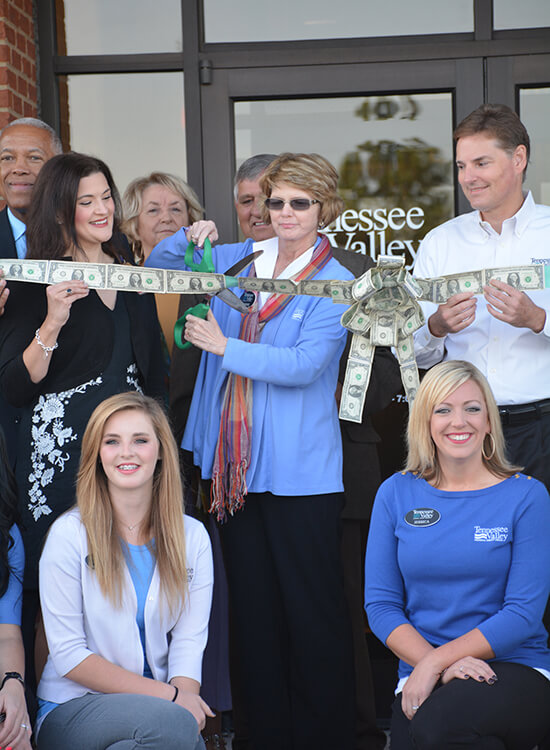 TVFCU is the first credit union in the Chattanooga market to introduce the interactive teller technology, and it is the first financial institution in the market to go all-in by featuring only interactive teller technology in the lobby and in the drive-thru.
During the grand opening on Thursday, Oct. 15, TVFCU officially unveiled the new Ringgold Branch and its technology to the community. The day's festivities included a ribbon cutting, three radio remotes, prizes and complimentary food from Legendairy Ice Cream and Coffee Shop. TVFCU also made a donation to the Children's Miracle Network in honor of everyone who stopped by throughout the day.
The Ringgold Branch is TVFCU's second Catoosa County Branch. TVFCU has another branch located at 200 Alamar Street, off of Battlefield Parkway, in Fort Oglethorpe.
# # #