Back to News
TVFCU and Branch Technology Unveil First-Ever 3D-Printed Building Facade
February 17, 2021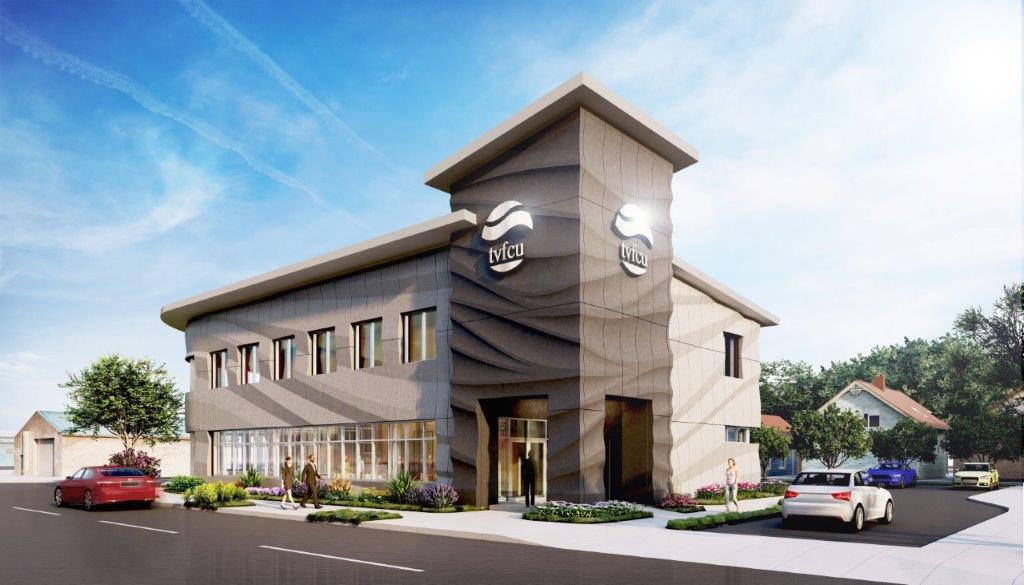 CHATTANOOGA, Tenn. (Feb. 17, 2021) — Do you realize when you drive down West 20th Street, there is another Chattanooga and world's first taking place? Something so innovative and forward-thinking that architects and builders from all over will be coming here to stop and stare. Yes, it is the new Tennessee Valley Federal Credit Union branch.
When looking to build its 20th branch, Tennessee Valley Federal Credit Union, a $1.9 billion credit union headquartered in Chattanooga, Tenn., wanted something different and innovative.
"Several years ago, I had the opportunity to visit Branch Technology when they were located in the INCubator at the Hamilton County Business Development Center," said Todd Fortner, president and CEO at TVFCU. "I was amazed at what could be made on a large scale with 3D printing. I immediately began to think about how we could incorporate this new technology into a future project."
TVFCU leaders and its builder for more than 20 years, Construction Consultants, began talking with Branch Technology.
The result is the first-ever 3D-printed building facade using Branch Technology's patented 3D printing process called Cellular Fabrication, C-Fab® on TVFCU's new Southside Branch, located at 125 West 20th Street in Chattanooga. The facade highlights the beauty of Chattanooga's natural surroundings and incorporates TVFCU's iconic wave branding into the design.
"The undulating facade is patterned to identify entrances and expand around the building's curvature, serving as wayfinding for visitors," said John McCabe, advanced concepts team and director of communications at Branch Technology. "Varying degrees of curvature in the sinuous facade pattern nod to TVFCU's recognizable wave logo. This project is a staple of design freedom offering a one-of-a-kind product outside the literal box of repetitive, conventional construction and facade manufacturing."
The design took more than a year of planning and collaboration from not only Branch Technology, Construction Consultants, but also BACE Structural and River Street Architects. With the design created, they began 3D printing the structure. Cellular Fabrication, C-Fab® is a unique printing method that allows material to solidify in open space, creating a matrix of polymer in virtually any shape. Branch Technology brings unprecedented design freedom and resource stewardship to next-generation wall systems.
While the finishing touches on the branch exterior will soon be completed, construction will continue on the branch's interior. TVFCU plans to open the Southside Branch in late spring 2021. The branch will be TVFCU's 20th branch and will be a full-service branch.
"While our competitors are closing branches, we are opening them," said Fortner. "We are constantly looking for better ways to serve our membership. We saw a void in our service area and decided to add a branch."
For more information about TVFCU and the Southside Branch, please visit tvfcu.com. Watch the creation of TVFCU's new Southside Branch here.
Branch Technology's 3D-Printed Building Facade Facts
The world's first freeform 3D-printed building facade utilizing the Cellular Fabrication (C-Fab®) Process.
This project uses innovative computational design processes to generate complex forms prepared for direct digital manufacturing.
The facade employs a 3D-printed structure to unlock design freedom while utilizing material composites that complement each other to create a robust, insulative, and lightweight envelope.
Fundamentally different from other existing 3D printing techniques, C-Fab® takes advantage of this Freeform capability to create volumetric geometries with 20X less material than traditional layered-deposition techniques while also maximizing structural capacity through geometric optimization.
# # #
About Tennessee Valley Federal Credit Union
Tennessee Valley Federal Credit Union (TVFCU), a not-for-profit financial cooperative, was established in 1936 when 57 Chattanooga TVA employees pooled $500 to create the member-owned credit union. Today, TVFCU serves more than 158,000 members who live, work, worship, volunteer or attend school throughout the 13-county service community. With more than $1.9 billion in assets and 19 branches throughout the area, TVFCU is the largest credit union in the region. For more information about TVFCU, please visit tvfcu.com.
About Branch Technology
Branch Technology is a full-stack advanced manufacturing company that designs and creates next-generation building systems utilizing construction-scale robotic 3D printing. We print volumes quicker, use 20x less material, and are more resilient than traditional 3D printing methods. Our technology competes (and co-exists) with conventional construction techniques and comes prefabricated from our 40,000 square foot design and manufacturing center in Chattanooga, Tenn. You can see more at www.branchtechnology.com
About Construction Consultants
Construction Consultants, headquartered in Chattanooga, is a design and build specialist. The firm prides itself on its forty years of experience designing and building a variety of projects in Chattanooga and the surrounding areas. From hotels to courthouse renovations to financial institution branches, Construction Consultants focuses on meeting client needs by providing a one-stop shop for all things construction. For more information about Construction Consultants, please visit design-and-build.com.