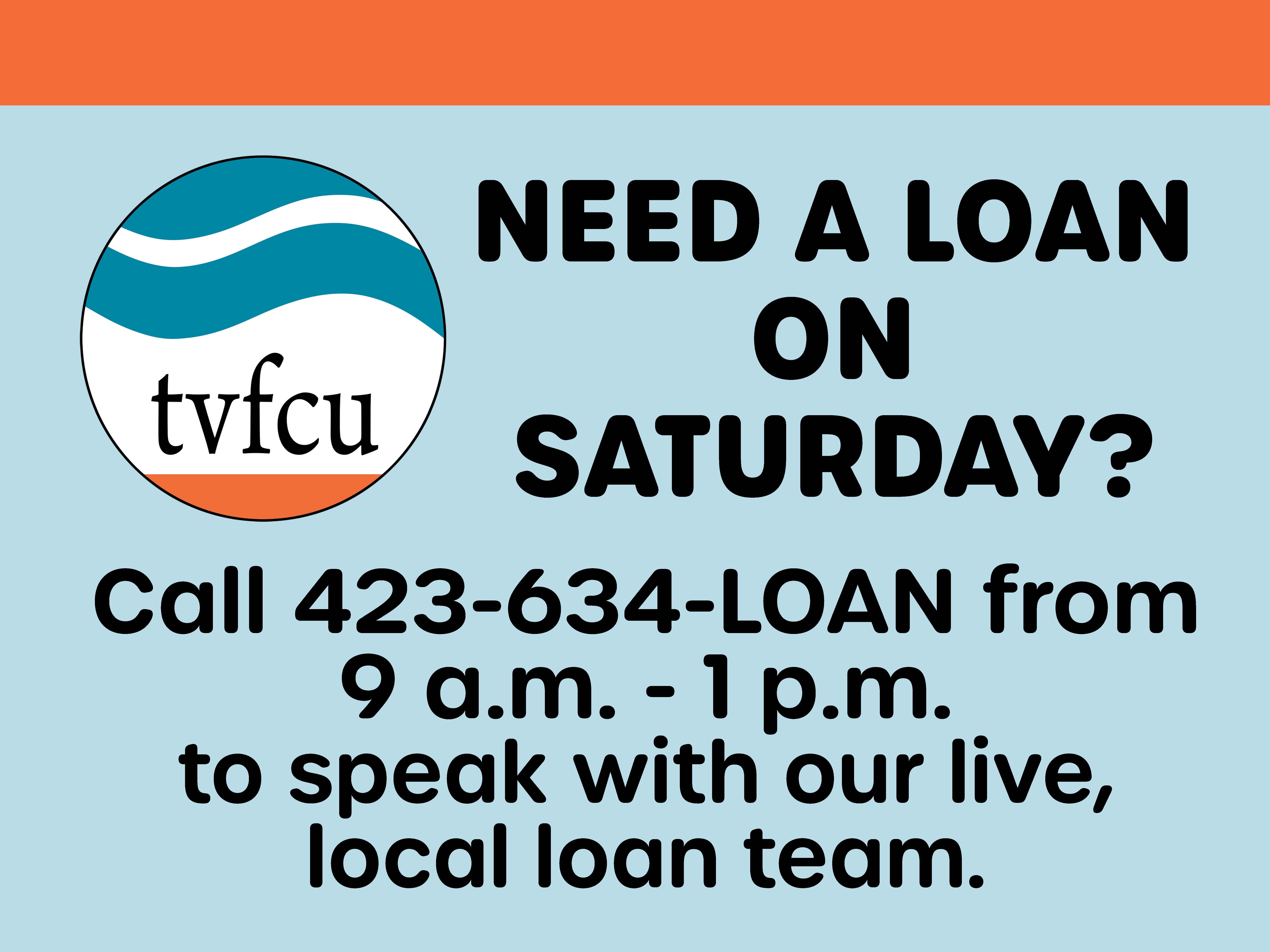 Did you know that TVFCU has Saturday Loan hours that can support auto pre-approvals, mortgages, personal loans, vacation plans and more?
Call 634-LOAN 423-634-5626 on Saturday, from 9 a.m. – 1 p.m. and a live, local loan expert will walk you through your options. We understand TVFCU members have different needs and availability, and needs arise outside of "regular banking hours"; TVFCU is your solution with our convenient Saturday hours.
Here are a few things our loan team can do for you:
Get pre-approved for your auto loan, including receiving your pre-approval certificate. Bring your pre-approval to the dealer to have the advantage in car shopping negotiations!
Close your loan today if you're buying from one of our preferred dealers.
Complete your personal loan and get the funds in your account today.
Start the mortgage process for a variety of products and services.
We offer competitive rates and convenient terms —with three quick and easy ways to apply.
Call 634-LOAN 423-634-5626 to apply and get pre-approved
Apply online at tvfcu.com by clicking the orange "Apply Now" button to begin your application
Activate tvfcuLIVE Stream via desktop or mobile app to speak with a loan expert
Get Started with tvfcuLIVE Stream on Desktop or Mobile
Desktop: Activate a session by clicking the orange Video Banking tab on the right. Google Chrome is the required browser to use tvfcuLIVE Stream. Other browsers (Internet Explorer, Firefox, Safari, etc.) are not supported. You must have a working webcam and microphone to use tvfcuLIVE Stream on a desktop computer, and tvfcuLIVE Stream will test for both camera and microphone prior to connecting to a Personal Consultant.
Mobile or Tablet: Download the app here:
Hours
Hours of Operation for 634-LOAN:
Monday-Thursday: 8 a.m. to 5 p.m.
Friday: 8 a.m. to 6 p.m.
Saturday: 9 a.m. to 1 p.m.
Please view our loan disclosures for important information.
* By selecting Apply Now, once your application has been submitted, a lending represenattive will contact you within 24 hours.