Back to Blog
tvfcuLIVE Stream Video Banking Services Launch
November 1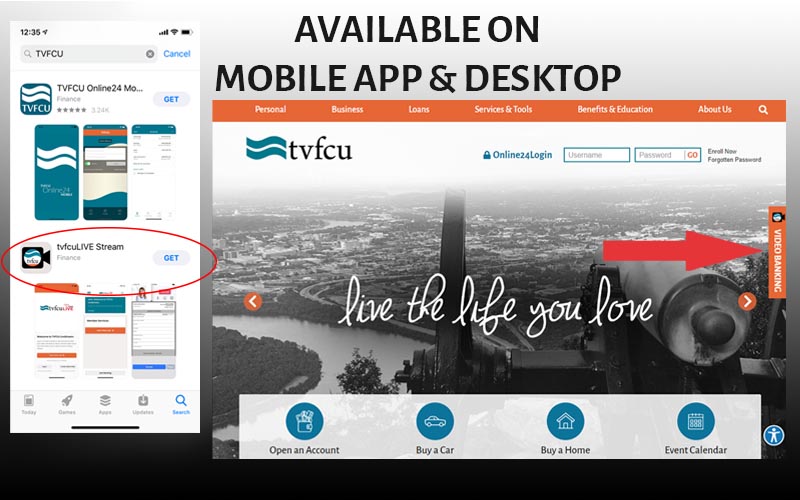 What is tvfcuLIVE Stream?
Through our partner with POP i/o, members & non-members can log in thru a web link on their PC (which will need audio and video capabilities) or by downloading the mobile app and contact a personal consultant via video. During this call, non-members can apply for new membership and existing members can perform account maintenance as well as inquire about debit card transactions and get assistance with Online24 banking. Think of this as a "virtual branch" where individuals can speak to someone "face-to-face" without any commute. Documents can be uploaded securely and signed electronically.
What hours will they be open?
The current hours for this service will mimic our traditional branch hours of Monday-Thursdays 9 a.m. - 5 p.m., Fridays 9 a.m. - 6 p.m. and Saturdays 9 a.m. - 1 p.m. (Closed on Sundays).
What services (at this time) are available?
New account opening – consumer & business (new membership & additional accounts for existing members)
Account maintenance
Stop Payments
Check orders and inquiries
Online 24/ Mobile App assistance
Debit card inquiries & card ordering
Obtain general information about our products and services
What services are not available thru tvfcuLIVE Stream at this time?
Loans (including payday, signature, auto, commercial & real estate)
Cash/check deposits
Cash back
The mobile apps for Apple and Android devices are now available to download in their respective Apple/Google play stores. Simply search" TVFCU" and download. Access the desktop feature by activating the right side panel labled "Video Banking".