Back to Blog
Virtual Angel Tree Adoption
November 16, 2020
TVFCU will once again be supporting the Salvation Army's Angel Tree Program. Fortunately, the Salvation Army has provided an online platform for Angels to be adopted, and shopped for, as we will not be collecting toys in the branches this year due to Covid-19 concerns.
Q: How will the Angels be adopted?
A: The Salvation Army has created a webpage specifically for TVFCU employees and members to adopt an Angel and credit their donation to TVFCU.
Q: What is the website?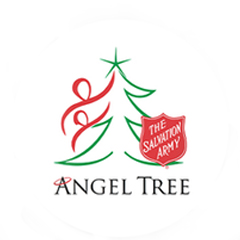 Q: What are the dates we can adopt an Angel?
A: Now through Saturday, Dec. 5.
Q: Can members give direct donations to TVFCU for Angel Tree?
A: No gifts will be collected at our branches. Participants select an Angel online and the gifts will be shipped directly to the Salvation Army warehouse. Alternatively, members may contribute financially to the Angel Tree Program through the website and the Salvation Army will handle all the shopping.
Q: What if you want to deliver your gift in person?
A: If you want to deliver the Angel Tree gift in person or mail it to the Salvation Army directly, the address is 5000 Calhoun Avenue, Chattanooga, TN 37407. Drop off dates are Monday, Nov. 16, through Wednesday, Dec. 9, Monday through Friday, 9 a.m. – 4 p.m. ET.
Q: What information will be on the Angel tags?
A: The donation information will be on back of the tags including the URL. Please note that the tags will not be associated with a child as in years past. We have created a sign for the Hamilton and Bradley County branches alerting members of this year's virtual program.
Q: What about the outlying areas? Not all of our branches collect toys for the Angel Tree Program.
A: Since we will not collecting toys in any of our branches this year, we are making the following donations as part of the Season of Caring campaign that we just completed. This was part of a social media campaign in celebration of International Credit Union Day. The McMinn County Rescue Squad received the most votes and received $1,000. The other featured organizations received $500 on behalf of TVFCU members.
McMinn County Rescue Squad: Rescue Christmas
Catoosa and Walker County Sheriff's Offices: Stocking Full of Love
Marion County Sheriff's Department: Christmas for Kids
Rhea County Sheriff's Department: Angel Tree
Salvation Army of Greater Chattanooga's Angel Tree
Some additional adoption details:
Your donation will provide a brighter Christmas for a child in Chattanooga.
1.) All items must be new. Please purchase at least three gifts.
2.) Include at least one item of clothing.
3.) Do not wrap any gifts.
4.) Be sure to place all of the gifts in the bag provided to you during drop off. The bag is identified with your Angel's code and name. If you are ordering Angel Tree items online, please make sure your name and the angel code is listed in the order. This can be a comment section and/or order details memo option during check out on a virtual online order.
5.) Please return your gifts—clearly marked with your Angel's Code and Name—to the designated drop off locations.
6.) Your gifts are tax deductible. Your receipt is included in your confirmation email that's sent to you.
7.) All gifts must be returned by Saturday, December 6th.
Drop Off Locations/ Ship To Locations:
Area Command
822 McCallie Avenue
Chattanooga, TN 37403
Office hours, Monday – Friday
9:00 am – 4:00 pm
Warehouse
5001 Covington Street,
Chattanooga TN 37407
Warehouse hours, Monday – Friday
Dec 2nd - 13th
10:00 am – 3:00 pm