Back to News
Tennessee Valley Federal Credit Union Helps New Parents Save
July 9, 2020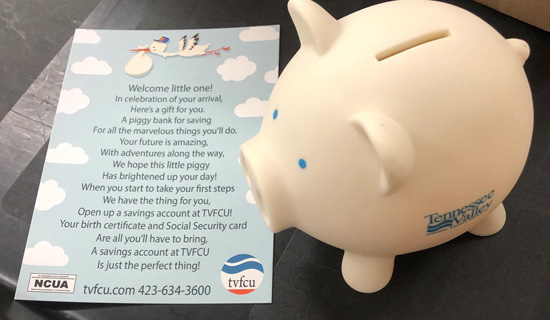 CHATTANOOGA, Tenn. (July 9) — With a lot of expenses these days, it can be challenging for new parents to start saving money for their child's future. To help new parents with savings, TVFCU has teamed up with The Birth Place at Parkridge East Hospital to help celebrate the arrival of their bundle of joy.
Each baby will receive a piggy bank and a poem that was penned by Nina Coppinger, TVFCU community liaison.
"Saving money is a skill that is useful all throughout life," said Jed Mescon, TVFCU community engagement liaison. "Each piggy bank also comes with a poem to let each baby know their future will be amazing. We hope this program will help add a lot of joy one penny at a time."
Piggy banks are a great tool and visual aid to begin saving routines at home. Once the piggy banks are full, parents can easily open their child a Youth Savings Account with a Social Security Card and Birth Certificate. Simply visit tvfcu.com to open the savings account through the tvfcuLIVE Stream video app or visit a TVFCU branch. TVFCU's Youth Savings Account is available for infants up to 19-year-olds.
For more information about saving money, visit mycreditunion.gov for an array of resources about saving, dealing with the unexpected and going to college.
# # #
Photo Captions
TVFCU Parkridge Photo: Parkridge East Hospital representatives — Rylee Daniel, Women's Services nurse manager, Lori Salmon, Women's Services director and Kinsey Glenn, marketing coordinator, hold piggy banks donated by TVFCU.
TVFCU Piggy Bank Photo: All newborns will receive a complimentary piggy bank and a savings poem.
About Tennessee Valley Federal Credit Union
Tennessee Valley Federal Credit Union (TVFCU), a not-for-profit financial cooperative, was established in 1936 when 57 Chattanooga TVA employees pooled $500 to create the member-owned credit union. Today, TVFCU serves more than 153,000 members who live, work, worship, volunteer or attend school throughout the 13-county service community. With more than $1.8 billion in assets and 18 branches throughout the area, TVFCU is the largest credit union in the region. For more information about TVFCU, please visit tvfcu.com.