Back to News
Top Five Finalists Announced for Idea leap
September 15, 2021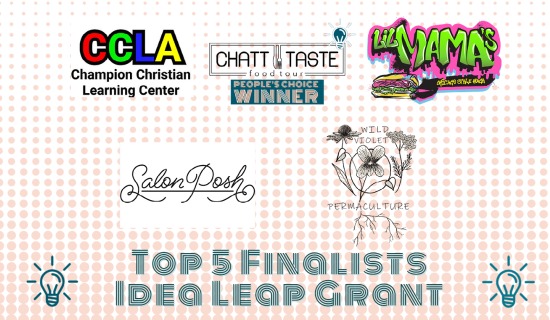 CHATTANOOGA, Tenn. (Sept. 15) — Tennessee Valley Federal Credit Union is proud to announce the Fourth Annual Idea Leap Grant finalists for 2021.
"We congratulate these five small businesses who have advanced to Idea Leap Grant finalists," said Tommy Nix, vice president of business and commercial services. "These five finalists will all receive grant funds from TVFCU during Startup Week Chattanooga. The Oct. 19 pitch competition will help determine who will win $21K in 2021."
In early September, TVFCU invited the community to help select one of the five finalists. Community members were encouraged to vote for their favorite Idea Leap Grant semifinalist. Ten small businesses were part of the text-voting campaign. Chatt Taste Food Tour received the most votes and was named the People's Choice finalist.
An independent panel of volunteer community judges selected the other four finalists. Dionne Jenkins, vice president of diversity and inclusion at Tennessee Valley Federal Credit Union, leads the judging committee. Judges include:
Vickye Bone, vice president, Urban League of Greater Chattanooga
Jennie DeCook, director, Tennessee Small Business Development Center at Cleveland State Community College
Emily Gilliam, credit analyst, Brightbridge Capital
Charles Fisher, partner/director, Grant, Konvalinka & Harrison, P.C.
Diane Parks, retired director of Leadership Chattanooga, Chattanooga Area Chamber of Commerce
Danielle Landrum, co-owner of Locals Only Gifts and Goods, 2020 Idea Leap Grant Winner & 2021 Celebrity Judge
The 2021 Idea Leap Grant finalists include:
Champion Christian Learning Academy
Location: Chattanooga, Tenn.
Owner: Cynthia Evans
Established: 2017
Grant Wishes: To purchase furniture, playground equipment and learning curriculum.
Lil Mama's Chicago Style Hoagy
Location: Chattanooga, Tenn.
Owner: Tiffany Pauldon-Banks
Established: 2019
Grant Wishes: To invest in continued staff training, marketing, catering and new equipment.
Salon Posh
Location: Athens, Tenn.
Owner: Allison Stiller
Established: 2018
Grant Wishes: To expand salon creating a space for continued education for license professionals, as well as adding manicure tables, pedicure chairs and treatment rooms so that we can offer more services.
Wild Violet Permaculture, LLC
Location: Signal Mountain, Tenn.
Owners: Nathaniel Bankhead and Bryant Hawkins
Established: 2020
Grant Wishes: To use the grant monies for three different objectives. First, we need to create comprehensive training programs and materials for both our employees and clients. Secondly, we need to invest in our future native plant nursery on Signal Mountain. Thirdly, we want to scale our compost production and distribution program.
People's Choice Finalist
Chatt Taste Food Tours, LLC
Location: Chattanooga, Tenn.
Owner: Briana Garza
Established: 2019
Grant Wishes: To build out the region's first electric mobile dining car, an elevated dining room on wheels.
The next step is TVFCU's Idea Leap Grant Pitch Competition, which will take place on Tuesday, Oct. 19, during Startup Week Chattanooga. Each finalist will have up to five minutes to pitch their business detailing why they are deserving of the grant. A brief socially-distant Q&A session with judges will follow each presentation. Once all the presentations are complete, the judges will deliberate and evaluate the finalists according to a set of assessment criteria. The winners will then receive one of five grants valued at $21,000, $15,000, $10,000, $7,000 and $5,000.
TVFCU is closely monitoring the COVID-19 surge. For the health and wellbeing of all involved, TVFCU may have to pivot from an in-person, outdoor event to a virtual event. Follow TVFCU on social media for the latest competition details.
The Idea Leap Grant is an extension of the credit union's Idea Leap Loan Initiative that was created specifically for small businesses in 2016. To date, TVFCU has funded more than $3.8 million in loans to emerging and early-stage businesses through the loan initiative. Furthermore, TVFCU has awarded more than $125,000 in Idea Leap Grants.
For more information about the Idea Leap Grant, please visit tvfcu.com/IdeaLeapGrant.
# # #
About Tennessee Valley Federal Credit Union
Tennessee Valley Federal Credit Union (TVFCU), a not-for-profit financial cooperative, was established in 1936 when 57 Chattanooga TVA employees pooled $500 to create the member-owned credit union. Today, TVFCU serves more than 164,000 members who live, work, worship, volunteer or attend school throughout the 13-county service community. With more than $2.2 billion in assets and 21 branches throughout the area, TVFCU is the largest credit union in Southeast Tennessee. In 2021, Forbes named TVFCU Best-In-State Credit Union. For more information about TVFCU, please visit tvfcu.com.
About TVFCU's Idea Leap Grant
The Idea Leap Grant Initiative is an extension of TVFCU's Idea Leap Loan Initiative that was created in October 2016. The Idea Leap Loan fills a void in the community for loans up to $50,000 to emerging businesses. Through the Idea Leap Grant Initiative, TVFCU is reinvesting Idea Leap Loan proceeds back into the community.