CHATTANOOGA, Tenn. — Flour. Sugar. Icing. They are all typical birthday cake ingredients, but they are not on the list for TVFCU's 80th birthday cake. Instead, the key materials are sand and water. That's because this multi-tiered birthday cake is made from 220 tons of sand.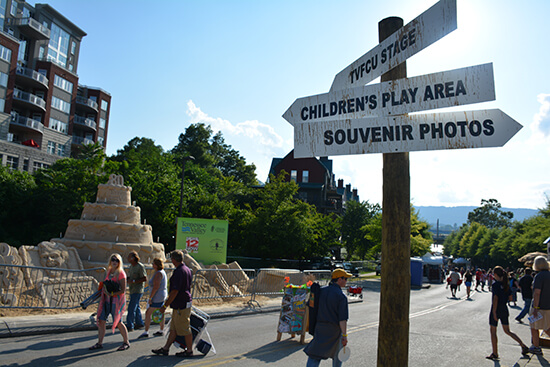 "We are grateful for our members who have let us serve their financial needs for the past 80 years," said Tammy Zumbrun, community relations specialist at TVFCU who oversees the creation of Riverbend Beach. "To help commemorate this milestone, this year's sand sculpture will be a multi-tiered birthday cake-inspired sand sculpture that will highlight some of the ways that we have helped members live the life they love."
Watch nightly as sand artists from Team Sandtastic in Sarasota, Fla., turn piles of sand, donated by Monteagle Sand Company, LLC, into Riverbend Beach's birthday cake-inspired sand scultpure. The sand artists will be on-site each night until 7:30 p.m.
Riverbend Beach is presented by TVFCU in conjunction with WDEF News 12, SpringHill Suites by Marriott Chattanooga Downtown/Cameron Harbor and the Creative Discovery Museum. The eighth annual mini-oceanside destination along Riverfront Parkway features a wide variety of activities, including a 220-ton sand sculpture, tiki deck, child sandbox, prizes and live music from the TVFCU Stage.
Step atop TVFCU's deck to get a better view of the magnificent sand sculpture. Then register to win a three-night Orlando, Fla., vacation courtesy of SpringHill Suites Chattanooga. The grand prize winners will stay at Hampton Inn Orlando/Altamonte Springs.
Furthermore, watch as WDEF News 12 broadcasts their weeknight newscasts LIVE from the custom-built sand newsdesk throughout the Riverbend Festival. During each LIVE broadcast, a winner will be selected for a Chattanooga-themed prize package.
Children are encouraged to make their own birthday cake-inspired sand castles at the Creative Discovery Museum's Sandbox. Be sure to capture your Riverbend Beach visit with an online souvenir beach postcard that you can share with friends and family compliments of WDEF News 12.
Listen to an eclectic mix of up-and-coming artists from TVFCU's Stage, which is tucked under the Walnut Street Bridge. The cool concrete and close proximity to the river boasts a nice outdoor ambiance that is further enhanced by special lighting and ceiling fans. Handpainted tabletops that were designed by students from the Center for Creative Arts (CCA) are the perfect place to set your dinner and drink. The tabletops will be auctioned later this year with all proceeds benefiting CCA's Art Department.
We look forward to seeing you at Riverbend Beach! In the meantime, follow the creation of Riverbend Beach through Facebook, Twitter and Instagram. Join the conversation, and share photos and videos by using hashtag #RiverbendBeach. And follow WDEF's Riverbend photo assignments on Facebook for a chance to win a prize using #SeenAtRiverbend.
For more information about Tennessee Valley Federal Credit Union, please visit tvfcu.com.
# # #